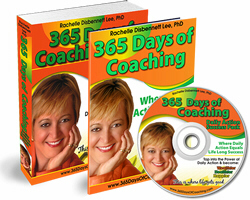 365 Days of Coaching
Daily Action Success Pack

If you are ready to take action on your goals then this is the Pack for you. You will receive support, motivation and inspiration in this 114+ page notebook filled to the brim with everything you need to reach your goals, live your dreams and have more Wealth, Health and Happiness right now.
The Daily Action Success Pack includes:
Recorded CD "How to Tap Into the Power of Daily Action" with Rachelle Disbennett Lee, PhD and Alyson B. Stanfield of ArtBizCoach.com.


The 114+ page workbook is jammed back with special reports, assessments and worksheets all designed to help you live the life you crave right now.
Plus Check Out Your Free Bonuses with this procuct:
365 Days of Action – How to manifest everything you desire through the power of Daily Action – This is the second compilation of 365 Days of Coaching Day Book focused on how to harness the power of action to make all your dreams come true. This amazing 432 page E-Book is packed with secrets, tips and tricks on how to have whatever it is you want here and now. This fabulous e-book is downloadable immediately with your subscription to 365 Days of Coaching. A $37.00 Value
20 minute Coaching Session to help you create your own personal plan and stay on track. I want you to be successful and achieve the great life you want and deserve. Because of that I am offering you something that is truly precious, my time. I will personally support you in creating a plan for success and outline the steps you need to achieve that plan. Value $175.00 – Creating your own personal plan for success – Priceless! Total bonus value $212.00
The Daily Action Success Pack and all the bonuses $97 plus s & h.